Buying/booking the ticket online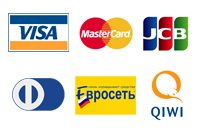 On the VIM Airlines web-site you can book and purchase air tickets for regular flights of VIM Airlines.
The procedure of booking includes several steps, where you need to select the flight route and dates, flights and fares, enter the information about the passengers and select the form of payment for air tickets. If payment by bank card or electronic currency is selected, you can pay for the ticket at the same time.
You can pay for the tickets using the cards of international payment systems, such as Visa, EuroCard/MasterCard, DINER S CLUB, JSB. You can also pay in cash in the «Euroset» company offices throughout Russia, or using QIWI payment terminals.
If you decided to pay through «Euroset», once the booking is complete you will receive a notice to your specified e-mail indicating the order number and payment code. In order to make payment, you only need to give the «Euroset» operator a 14-character payment code and an exact amount of your order. Once the payment is made, you will receive an itinerary receipt to your e-mail. Please print it out.
Please note that the maximum amount of payment for the ticket via QIWI payment terminals is 15 000 roubles. You can find the instructions on payment for the ticket via QIWI payment terminals here.
For further information, please call the VIM Airlines information support center: +7 499 271-0-333.